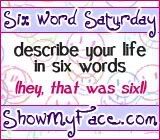 "work promote paint clean fret laugh"
I don't have a sentence this week, just the list. These are my thoughts in a nutshell:
work & promote = self explanatory. there's something to the term "starving artist"
paint
= maybe since it's Saturday I can work on my
hutch project
- maybe
clean = need to clean - viscous cycle -UGH Bleh UGH
fret = it's a parent's job - one of the perks
laugh = at myself, at others, whatever it takes
I hope you laugh today. :D
Happy Six Word Saturday. Join in.