Yes, I'm still
working my tush off
. Trying to get ahead in preparation for a visit to N.C. this weekend. Lately I've been speaking of cars, so in honor of keeping the thought fresh, I'm reposting a little something I wrote last year.
The Officer Said, "Ma'am, I Think Your Car Is Jinxed."
Ever feel like something in your life is jinxed? I'm a religious person and, in general, we aren't supposed to believe in those sorts of things. My thoughts, however, are beginning to change.
I love my little Toyota Rav4. We purchased it new in 2002, opting for a manual because it would be more fun for me. The car has not let me down. It has absolutely NO power, but being a girl who just loves all things CUTE, I don't really care how fast I go.
Unfortunately, the tide began to turn a couple of years ago when BSer was involved in an accident on a one-lane dirt road, far into the woods of Virginia. He damaged my baby! I forgave him and we quickly had it repaired.
ONE year later, BSer is taking my car to the airport at dusk one morning to catch a flight. (seeing a pattern?) Unfortunately, some deer must have been heading to the airport as well because the two collided. See Exhibit "A" below:
Exhibit "A"
Fast forward to THIS PAST November. (This is something we rarely discuss at the dinner table or any other time as it's still a very sensitive subject.) Smart Ass had just gotten her learners permit and, well, let's just say that she had a little trouble shifting and steering at the same time. See exhibit "B" below:
Exhibit "B"
I was in the passenger seat when Exhibit "B" occurred. It happened in slow motion, literally, and a stream of words poured from my mouth the likes of which I didn't know existed.
Fast forward to LAST Friday. I pick Smart Ass up from school and head to Target. We are sitting at the stop light, on the highway exit ramp when suddenly we're thrown forward. See exhibit "C" below: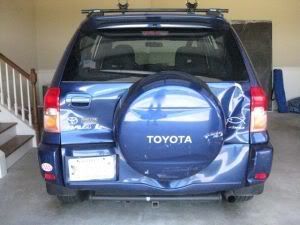 Exhibit "C"
Simply CAN NOT believe this has happened. My cute little car now has only one good side, excluding the roof. Anyway, as one officer is writing the report, his partner walks around my car and proceeds to say, "Ma'am, I think your car is jinxed." I laugh and he looks at me, dead serious, and says, "I'm not kidding. That stuff happens, ya know."