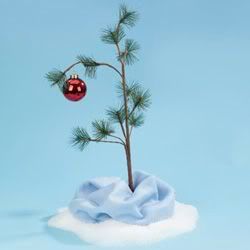 Every year, I love reading the magazines and blogs about how to beautify your home for Christmas. I dream - a girl can dream, can't she?
When I was a young whipper-snapper of a mom, I had aspirations. We made homemade ornaments, gingerbread houses, chopped down our own trees.
I still love to read about the beauty of Christmas. But here's the reality...
I'm not Martha Stewart. I tried once and it didn't take.
We go to Home Depot to pick a tree. It stands for several days before it's decorated.
We still have boxes in the dining room. Boxes of Christmas decorations, surrounding the tree, which, by the way, is dropping needles because I forget to feed it water. (Blush)
We still have a pumpkin on our front steps. (Haha, blush)
While under massive pressure, I wrap presents to put under the tree two days (or one) before Christmas. And I usually find a few forgotten gifts hidden in various spots in the spring.
The only reason we made gingerbread houses in the early years was because I faced peer pressure from the good moms.
I'm too cheap to buy new decorations. We still have the same ivy that we had 20 years ago.
Believe it or not, I LOVE Christmas. I'm just not a holiday Martha.
UGHHHH!! I feel better.
Try confessing. It's good for the soul, I promise.
Bah Humbug, oh and, Merry Christmas :)